'Tis almost the season of festive lights, cozy gatherings, and the thrill of gift-giving! As the holidays approach, our minds are buzzing with the joy of spreading cheer to our loved ones. However, the excitement often comes with the pressure of finding the perfect gift on budget. 
As Black Friday approaches, now is the perfect opportunity to kickstart your holiday shopping. Take advantage of the lower prices to secure thoughtful presents for the festive season! Here's an exclusive sneak peek into some top deals you simply cannot miss at South Edmonton Common:
Brooks Brothers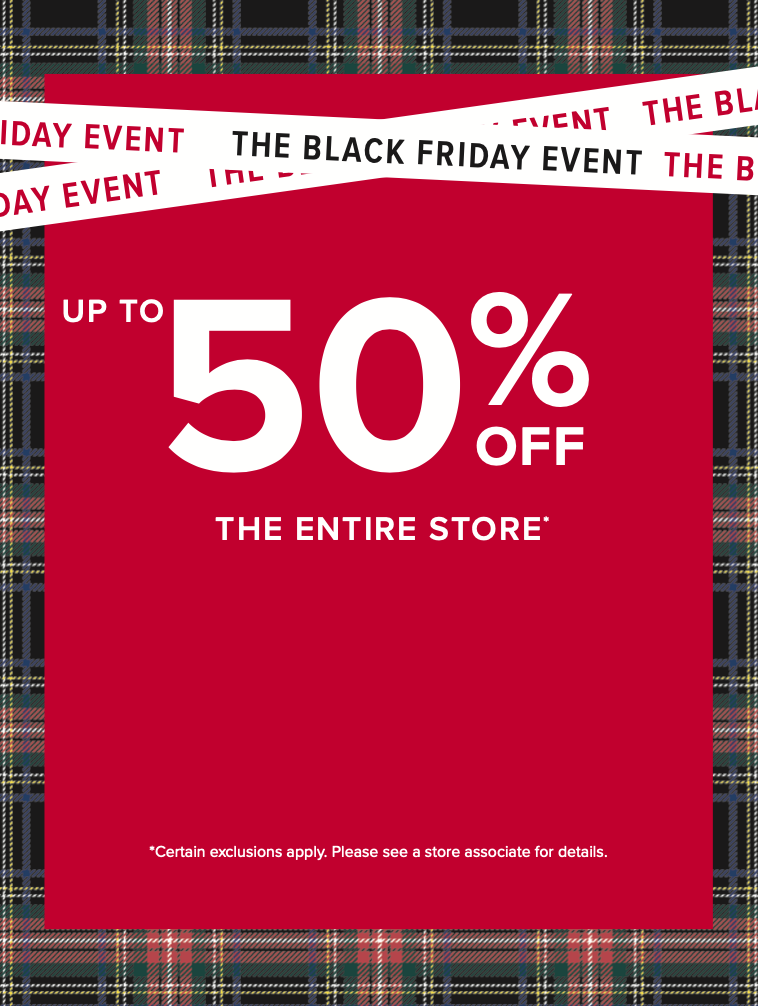 Brooks Brothers is all set to make your Black Friday a fashion-forward affair. Get ready for their fantastic offers:  
Preview Black Friday (November 9-20): Enjoy a head start with discounts ranging from 30% to 70% off on select items. 

Black Friday Extravaganza (November 21-28): From November 21 to November 28, Brooks Brothers is offering up to 50% off the entire store, so you can elevate your wardrobe without breaking the bank.
COBIA Salon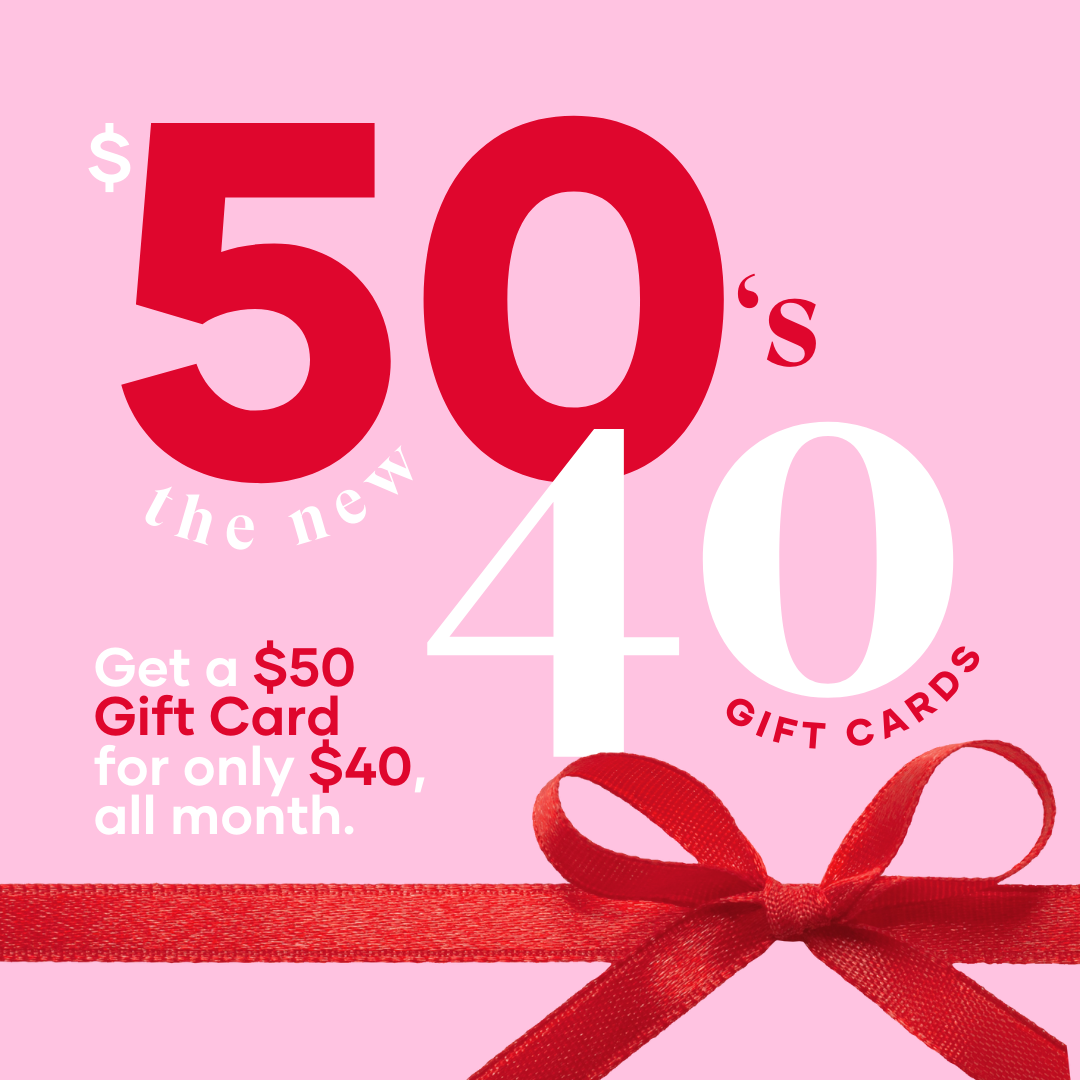 The go-to spot for your beauty and self-care needs is offering a plethora of deals:
Gift Card Special: Purchase a $50 gift card for only $40, a perfect gift for yourself or a loved one.
Free Gifts: Be among the first guests to visit COBIA Salon on Black Friday and receive a free gift with any purchase.
Retail Rewards: Starting on Black Friday, spend $75 on retail products, and you'll receive a gift valued up to $20. If you spend $100, you'll get a gift valued up to $40.
Haircare Specials: Don't miss the exclusive Black Friday deals on Olaplex (30% off from November 24-27), GHD (20% off from November 13-27), LOMA (50% off select products from November 24-27), and ABBA  50% off on November 26)
IKEA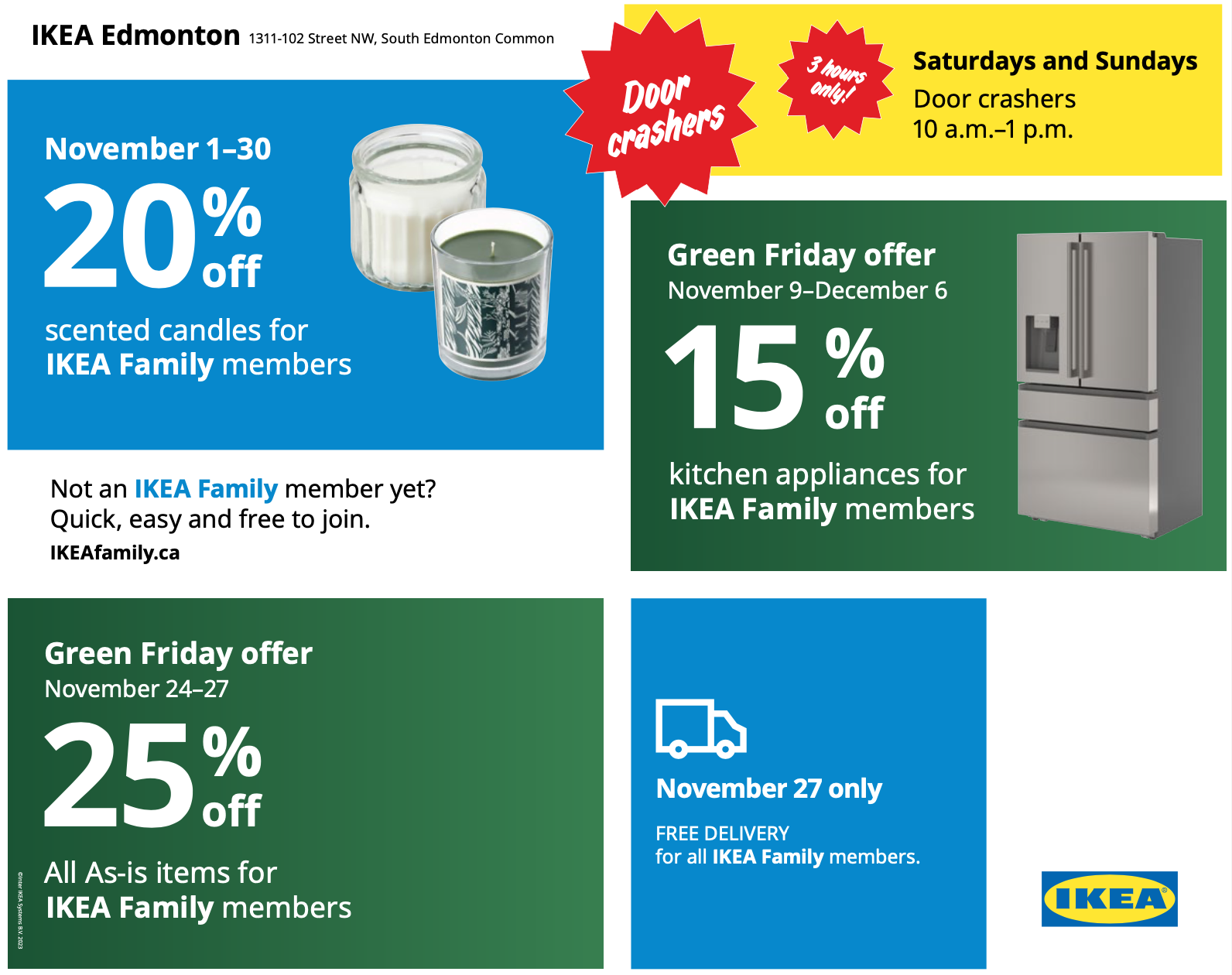 Always a favorite for home essentials, IKEA has exciting offers for its loyal customers:
Scented Candle Special: From November 1 to 30, IKEA Family members can enjoy a 20% discount on scented candles.
Weekend Door Crashers: On Saturdays and Sundays, from 10 a.m. to 1 p.m., you can snag exclusive deals.
Green Friday Offers: From November 9 to December 6, IKEA Family members can get 15% off kitchen appliances. Plus, from November 24 to 27, enjoy 25% off all as-is items.
November 27 Only: As a special treat, IKEA Family members can enjoy free delivery on November 27. Don't miss out!
Konto Furniture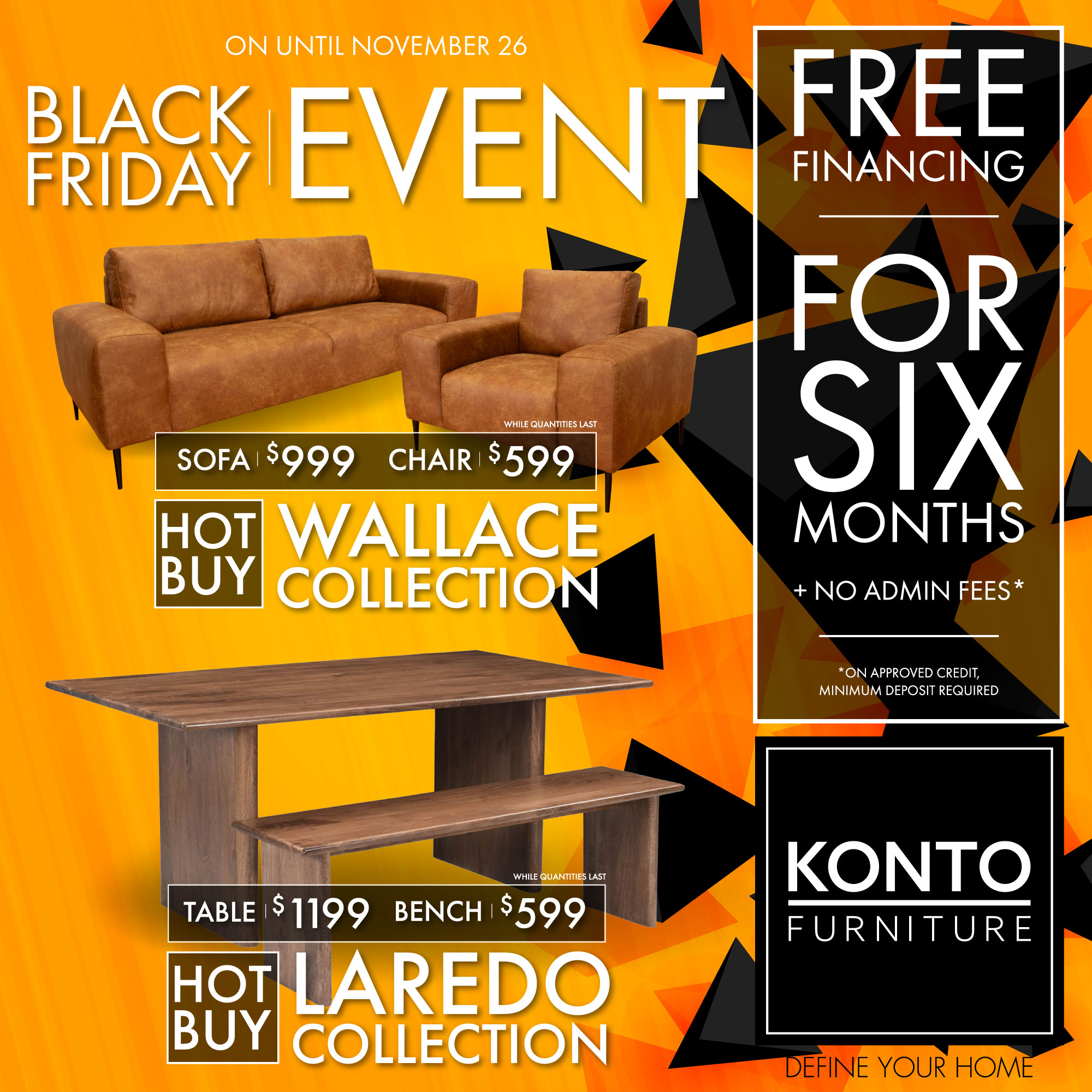 Konto Furniture is offering amazing deals on furniture and home essentials:
6 Months Free Financing (November 10-26): Get your dream furniture with six months of free financing.
Hot Buys: Explore fantastic deals on the Wallace Sofa, Laredo Dining Table + Bench, and Austin King or Queen Beds. Don't miss the incredible prices on Property Bros, Scott Living, and Drew & Jonathan mattresses starting at $1299 for the Queen size.
Sofa Land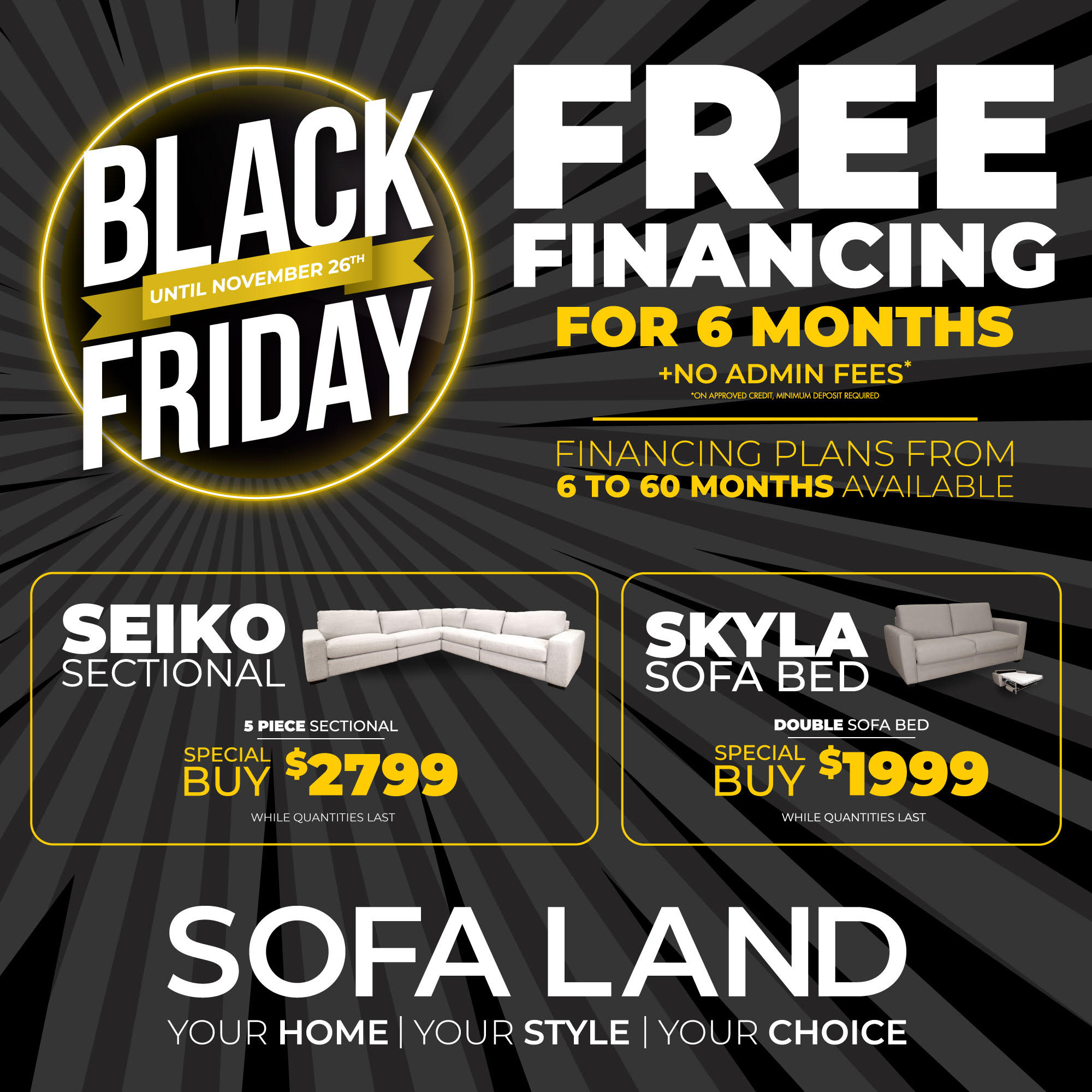 Enhance your living space with incredible deals at Sofa Land:
6 Months Free Financing (November 10-26): Take advantage of six months of free financing for a comfortable home makeover.
Special Buys: Check out exclusive deals on the Seiko 5 Piece Modular Sectional and Skyla Sofa Bed.
Tommy Gun's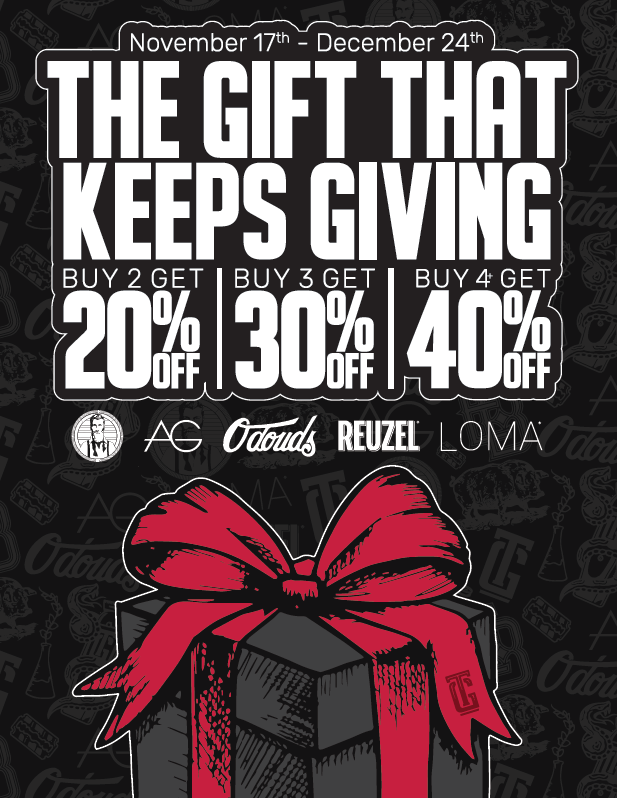 Save on the latest grooming products with this deal from November 17 to December 24:
The Gift That Keeps On Giving: Buy 2, Get 20% Off; Buy 3, Get 30% Off;  Buy 4, Get 40% Off. Participating Brands include: Reuzel, Educated Beards, O'Douds, Redken Brews, AG Care, Loma, and The Art of Shaving 
We're giving you a chance to win a $500 shopping spree split between up to 5 retailers of your choice! Participating retailers include Brooks Brothers, COBIA Salon, IKEA, Konto Furniture, Sofa Land, and Tommy Gun's. Enter here until December 1st. The winner will be announced on our Instagram and Facebook, so make sure to follow us! 
Mark your calendars, plan your routes, and get ready to snag some incredible Black Friday deals at South Edmonton Common!